About
> Exhibitions/Studio News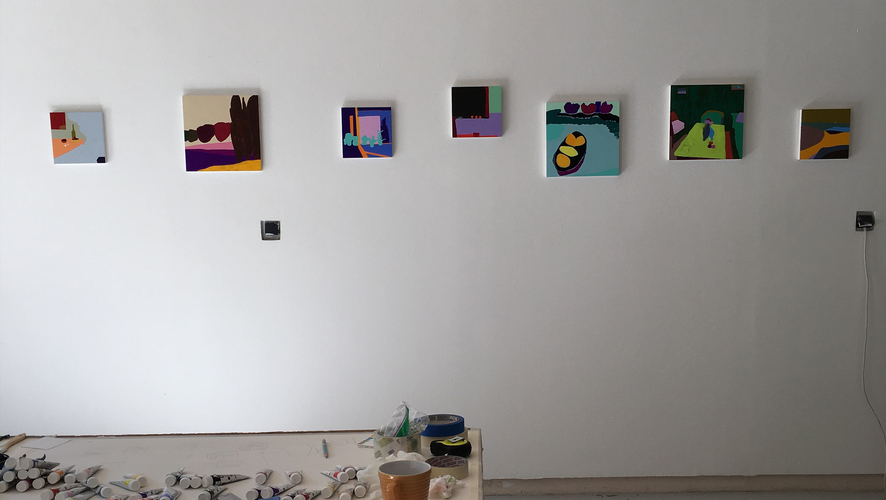 In the studio, Moulin à Nef, Auvillar, France, 2017

The past year-and-a-half has been exceptional. I've had residencies in the high plains of Wyoming (Brush Creek Foundation for the Arts); the built environment of Los Angeles (Otis College of Art and Design); a riverside village in southwest France (Moulin à Nef); the Blue Ridge Mountains of north Georgia (Hambidge Center for the Creative Arts and Sciences); and, in Florida, at a former artist colony, founded in 1937, whose buildings are a remarkable example of Mayan-Revival "fantasy" architecture (The Research Studio at Art & History Museums–Maitland).

In January I had a solo exhibition of paintings at Penn State Altoona, and in March and April I exhibited paintings and drawings in back-to-back solo shows at Ground Floor Gallery in Brooklyn's Park Slope; the gallery also represented my work at the Fall and Spring Affordable Art Fairs in NYC. In May, I had a solo exhibition, Painting(s) from Recollection, at The Painting Center in New York, featuring a selection of paintings from my residencies and my Stony Creek studio.

And in June, I showed an installation of 70 feet of line drawings in accordion-fold Japanese albums at the Cigar Factory LIC in Queens, NY. I've been drawing all summer, and now I'm looking forward to showing my work in group exhibitions—in November at Silvermine Arts Center, Ridgefield, CT; in December at an Artist Collective pop-up show at the Westport Arts Center, CT; and in January at The Painting Center's 25th Anniversary Exhibition in NYC.