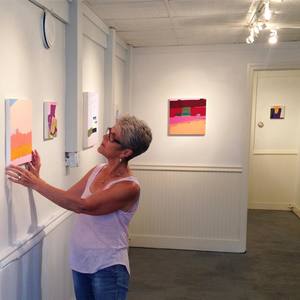 Barbara Marks is a multidisciplinary artist based in Connecticut. She is known for her small-scale, square, colorful, paintings that are semi-abstract in nature, suggesting interior spaces, landscapes, and objects—as well as her drawings and paintings on upcycled consumer packaging. Her work calls attention to the commonplace and the local.
A child of the sixties, Barbara Marks grew up in Westport, Connecticut. She attended college, studying anthropology, until she fell into graphic design. In 1978, she established her own studio specializing in book design. In 2001, she left that behind to study painting at Lyme Academy College of Fine Arts, earning a BFA (2005) followed by an MFA from Brooklyn College CUNY (2008).

Barbara Marks has been a resident artist at Vermont Studio Center (VT), Virginia Center for the Creative Arts (VA), Fowler Dune Shack (Cape Cod), MIRA (Martignano, Italy), Brush Creek Foundation for the Arts (WY), Jentel Foundation (WY), L.A. Summer Residency at Otis College of Art and Design (CA), The Hambidge Center for Creative Arts and Sciences (GA), The Research Studio at Art & History Museums-Maitland (FL), Monson Arts (ME), Edward F. Albee Foundation (NY), Sam and Adele Golden Foundation (NY), Moulin à Nef (Auvillar, France), and PADA Studios (Barreiro, Portugal). She has twice been a visiting artist at the American Academy in Rome. Barbara's work has been shown at the Cape Cod Museum of Art (MA); Providence Art Club (RI); Painting Center, First Street Gallery, Blue Mountain Gallery, and Atlantic Gallery (NYC); Ground Floor Gallery (Brooklyn), Drawing Rooms (NJ); New Britain Museum of American Art; DaSilva Gallery, Silvermine Arts Center, Ely Center of Contemporary Art, Whitney Center, Serendipity Gallery, The Loft Gallery, Five Points Gallery, and The Chase Family Gallery (CT); Thomas Deans Fine Art (Atlanta); McLanahan Gallery at Penn State Altoona (PA); The Affordable Art Fair (NYC); and Artist-Run at Satellite (Miami). Barbara is an artist member of The Painting Center (NY); New York Artists Circle (NY); and a Guild Artist at Silvermine Arts Center, (CT). Her work on paper is represented in the flatfile at Artspace New Haven. She is a Trustee of the Vermont Studio Center and a former board member of Artspace New Haven.